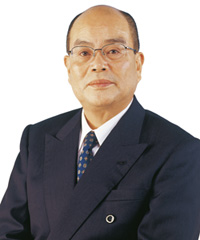 President Nobuei Kaneya
The innovation of the current information systems changes the forms of the business market in the world. The environment around our lives changed and the needs of people's lives are arrestingly shifted.
However, the new idea, needs generates the new innovative technology, and that makes our lives more convenient.
In order to back up the people's lives in the society with the technology, we'll continue to develop our products and the systems of our company by Kaizen activities, and promise to devote ourselves to the development of our society. I believe the way can be achieved only with the customers.

We focus on the customer-first principle, and will create the product satisfying the customer's needs as much as possible.
In addition, we'll contribute to the development of our society with the inventive mind and artifice.
Management Policy
We always supply low-price and high-quality products promptly without delay.

We make efforts to learn and develop the up-to-date technologies.

We correlate to citizen's lives in our region and contribute to its development.
Quality Policy
Design of the reliable control plan at the first stage and its conservation with the consolidated quality assurance framework.